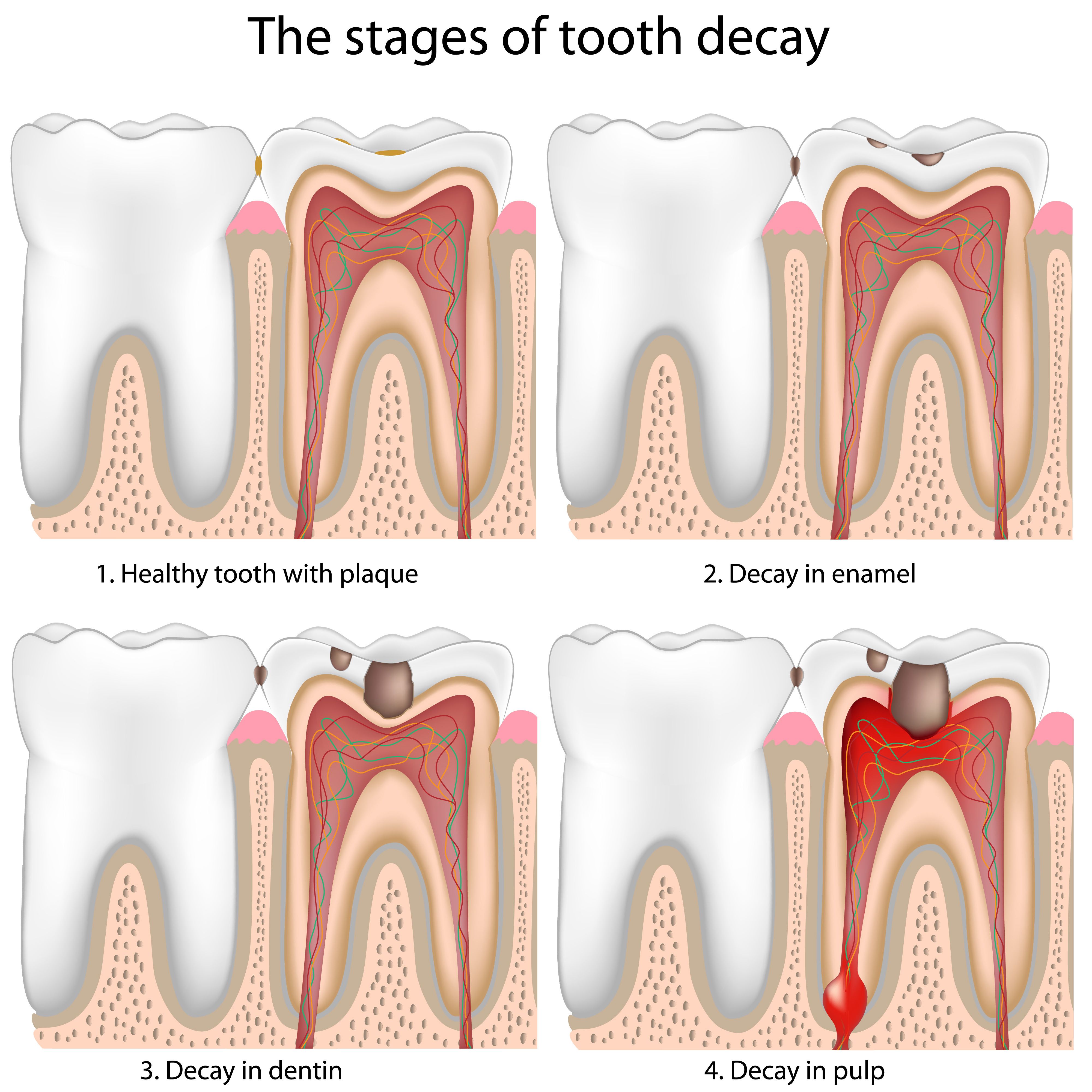 Cavities don't develop overnight. They can take a long time to show up, and when they do, they can take time to develop. Whatever stage of tooth decay you suffer from, the team at our Memphis restorative dentistry practice can help, offering state-of-the-art treatments for your dental health problems.
Since many patients do not understand the nature or progression of cavities, we'd like to take a moment to consider some of the basics. Here are the different stages of tooth decay.
Stage One: The Initial Lesion
Before a full-blown cavity develops, the early sign of tooth decay is a lesion on the tooth enamel. This lesion typically takes the form of minor discoloration of the tooth structure, usually white or brown. This lesion will not show up as tooth decay in a dental x-ray, but it's a sign of decay in progress.
This initial lesion is reversible, thankfully. Dentists can perform a thorough cleaning followed by fluoride treatments and perhaps even the use of dental sealants. Patients will be advised to eat right and be more attentive about brushing and flossing to help prevent cavity formation.
Stage Two: Enamel Decay
Enamel decay is when a full-blown cavity has developed. While tooth enamel is one of the strongest substances in the entire body, it will not be able to withstand the effects of oral bacteria. As the enamel decays, it increases the risk of further tooth decay and more serious dental health problems.
The ideal treatment for enamel decay is a dental restoration, such as a filling, inlay, or onlay. This will help replace the missing tooth enamel and strengthen the remaining tooth structure. Fillings come in metal and tooth-colored varieties.
Stage Three: Dentin Decay
Beneath the tooth enamel is a substance known as dentin. The dentin is not as strong as tooth enamel and it is also porous. This means that tooth decay progresses and spreads faster in the dentin. Tooth sensitivity is one of the telltale signs of dentin decay.
When dentin decay has occurred, dental restorations are the ideal option for treatment. Inlays and onlays may be used here, though many times the ideal option is the use of a dental crown. A crown helps cap a seriously decayed or damaged tooth, restoring its strength and protecting the tooth from harm.
Stage Four: Root Canal Infection
A root canal infection occurs when the bacteria in the mouth reaches the inside of a tooth. Each tooth has a small bundle of dental pulp inside of it, which is comprised of nerves, blood vessels, and connective tissue. A root canal infection can be quite painful. Failure to treat a root canal infection can lead to the spread of bacteria to other parts of the mouth.
When treating root canal infections, dentists often rely on endodontic therapy, which is better known as a root canal. This removes the diseased dental pulp and caps the tooth to protect it from further harm. If a tooth is too decay to perform a root canal, it will need to be extracted.
Stage Five: Formation of an Oral Abscess
An oral abscess refers to an accumulation of bacterial pus. When this forms in the mouth, patients experience serious health risks. A ruptured abscess can lead to a severe infection that spreads throughout the body, resulting in debilitating illness and myriad health problems.
An oral abscess must be treated by a skilled professional. The abscess will need to be carefully drained, and the patient will require antibiotics and antiseptic medication to help control and eliminate the harmful bacteria.
Learn More About Treating Tooth Decay
For more information about treating tooth decay and preventing severe dental health problems, be sure to contact an experienced cosmetic and restorative dentist. The team at van Zyl Center for Advanced Dentistry will help you smile with renewed confidence.