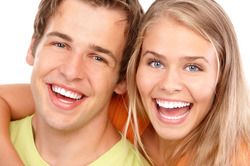 Although orthodontics has been around for centuries, more and more people are using braces to achieve permanently straighter teeth. As technology improves and treatment becomes more accessible to both teens and adults, it seems as though this trend will continue. And yet, traditional metal braces still have many of the same drawbacks. For patients hoping to straighten their teeth without a mouth full of metal, invisible braces may be a good alternative. Namely, ClearCorrect™ aligners can provide comparable results to conventional bracers, along with additional benefits.
Although each form of orthodontic treatment has its own set of advantages and disadvantages, some patients may be equally or better suited for ClearCorrect™. Consider the below information to see whether this innovative technique can help straighten your smile, as offered by our Memphis practice.
The ClearCorrect™ Treatment Process
ClearCorrect™ offers straightening treatment that can provide similar results to traditional braces, within a similar timeline. Despite the equally effective results, though, the orthodontic method is distinctly different. Rather than utilizing metal wires and brackets cemented to teeth, ClearCorrect™ uses a single clear, plastic tray that covers an entire row of teeth at once. Like a retainer, the trays are removable, but unlike other orthodontic appliances, they are practically invisible.
At the beginning of ClearCorrect™ treatment, digital and physical impressions will be taken of your teeth. These impressions will be used to create a 3-D model of your current teeth and their intended treatment plan. They will also be used in the creation of your aligner trays, which will be sent to your cosmetic dentistry office. From that point forward, it is simply up to you to wear your aligners throughout the day, removing them for eating and hygiene. Periodically, you will switch to a new aligner set or visit your dentist for a check-up. After enough time, your teeth will be shifted into their correct, optimal position.
Problems Fixed through ClearCorrect™
Invisible braces can fix many of the problems that have conventionally been fixed by metal braces. By using ClearCorrect™, patients can permanently solve any or all of the following:
Crowding
Gapped teeth
Rotated teeth
Overbites
Underbites
Crossbites
General crookedness
While ClearCorrect™ may offer a good comprehensive solution to orthodontic problems, patients should also understand the limitations of treatment. For severe crookedness, rotations, and bite misalignment, traditional braces may offer the most effective results. This is especially true for impacted teeth, as the aligners cannot assist in vertical movements. For a more accurate understanding of whether ClearCorrect™ can help your teeth, speak with your dentist.
Good Candidates for ClearCorrect™
Most patients with mild crookedness, whose bite is not severely affected, can benefit from ClearCorrect™ treatment. Generally, the best candidates are those who wish to straighten their teeth primarily for cosmetic reasons, and do not have any pressing dental concerns.
As far as the treatment process is concerned, candidates should be ready and willing to wear their aligners for 22 hours a day. Patients who are responsible about keeping their aligners in will see the most significant and timely results.
Although ClearCorrect™ offers similar benefits to everyone, some patients are particularly well-suited for its advantages. Because the aligners are inconspicuous, treatment is popular among patients who would be socially or professionally embarrassed to be seen with braces. Eating and hygiene are also made easier, as the aligners can simply be removed when needed. This makes treatment especially advantageous for patients who do not want their diet or hygiene habits altered by their orthodontics.
Is ClearCorrect™ Right for You?
By coming in for a consultation with Dr. van Zyl, you can learn whether invisible braces are right for you. If your smile may be better straightened through an alternative treatment, we can recommend the right options to suit your needs. Contact us today to schedule an appointment.